Description
TurboWerx Exa-Pure™ 100µ Filtration System.
The Turbowerx Exa-Pure™ 100µ Filtration System is the ultimate inline filter designed for use at high temperatures as required with turbocharger discharge oil. The large 100µ stainless steel filter element is easily inspected/cleaned and inexpensive to replace. A powerful magnet is mounted in the tip of the filter element for additional filtering. It utilizes two 3/8 NPT female in/out ports allowing the use of a variety of adapters for easy tailoring to the application. This filter is available in two finishes – an anti-corrosion nickel-plated version to match the Exa-Pump, and a black powder-coated version. Two -8AN nickel-plated adapters are included. (-6AN and -10AN are optional substitutions.) The filter body itself is 3.5" long x 1.2" in diameter. With both AN fittings installed the total length is 6".

Exa-Pure™ with -8AN fittings

Exa-Pure™ with -10AN fittings and black powder-coated finish
.. Exa-Pure™filter element mounted.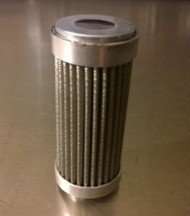 Exa-Pure™ filter element
TurboWerx Part # TWX-EP38NPT-100-N (nickel-plated)
TurboWerx Part # TWX-EP38NPT-100-B (black powder-coated)
Price: $79.00