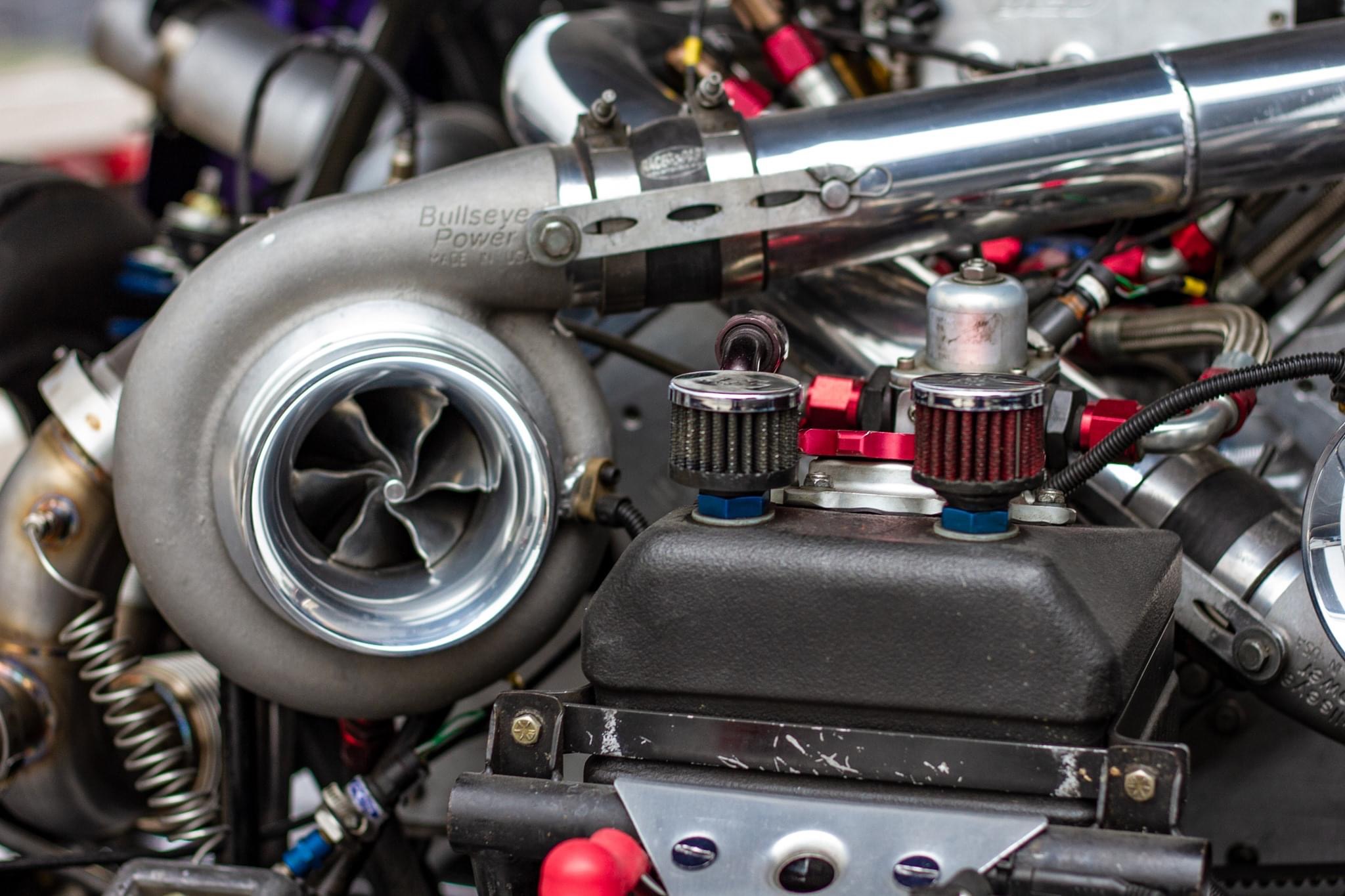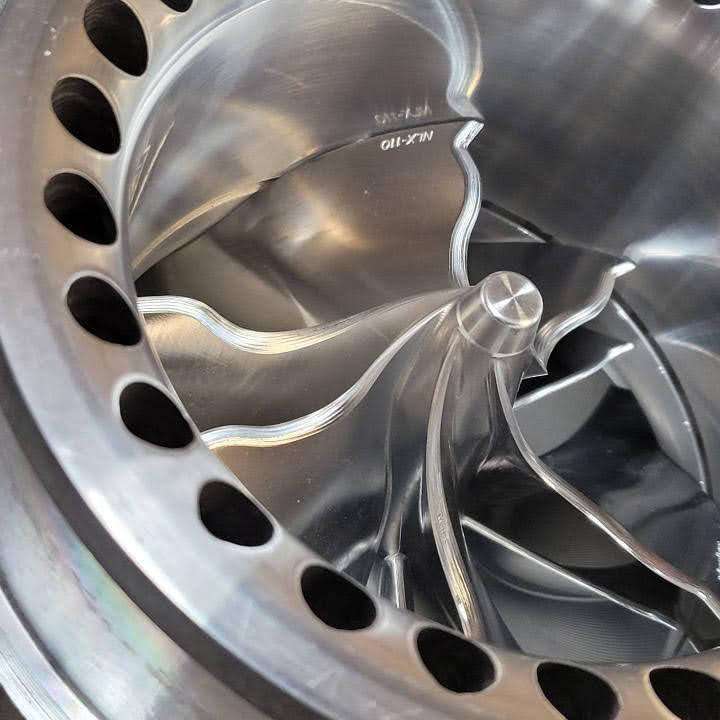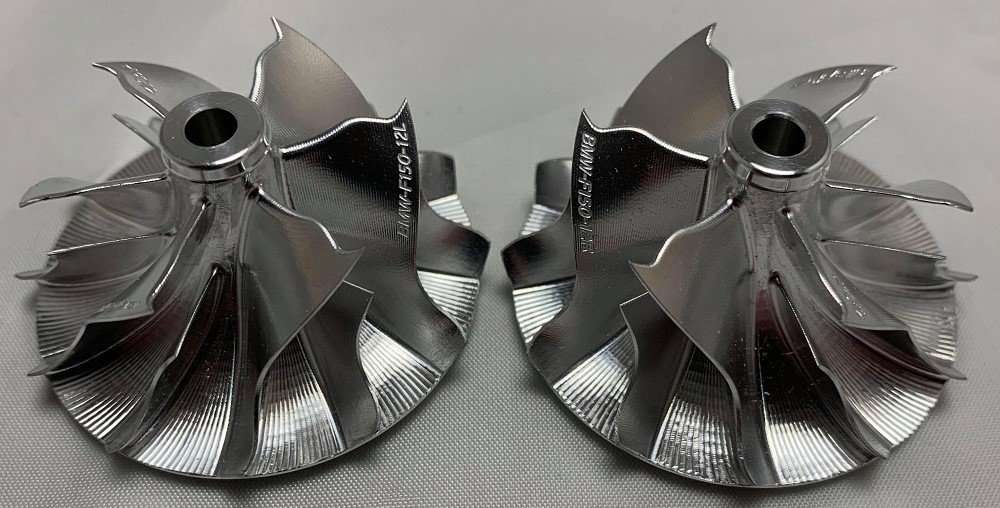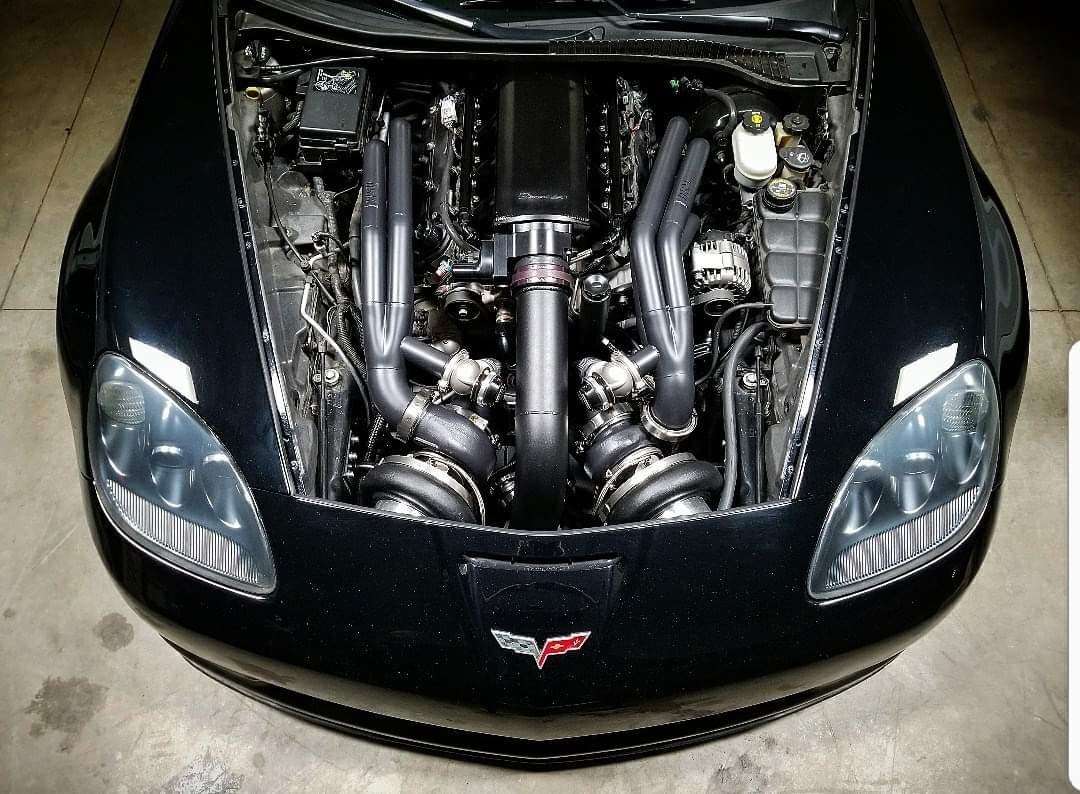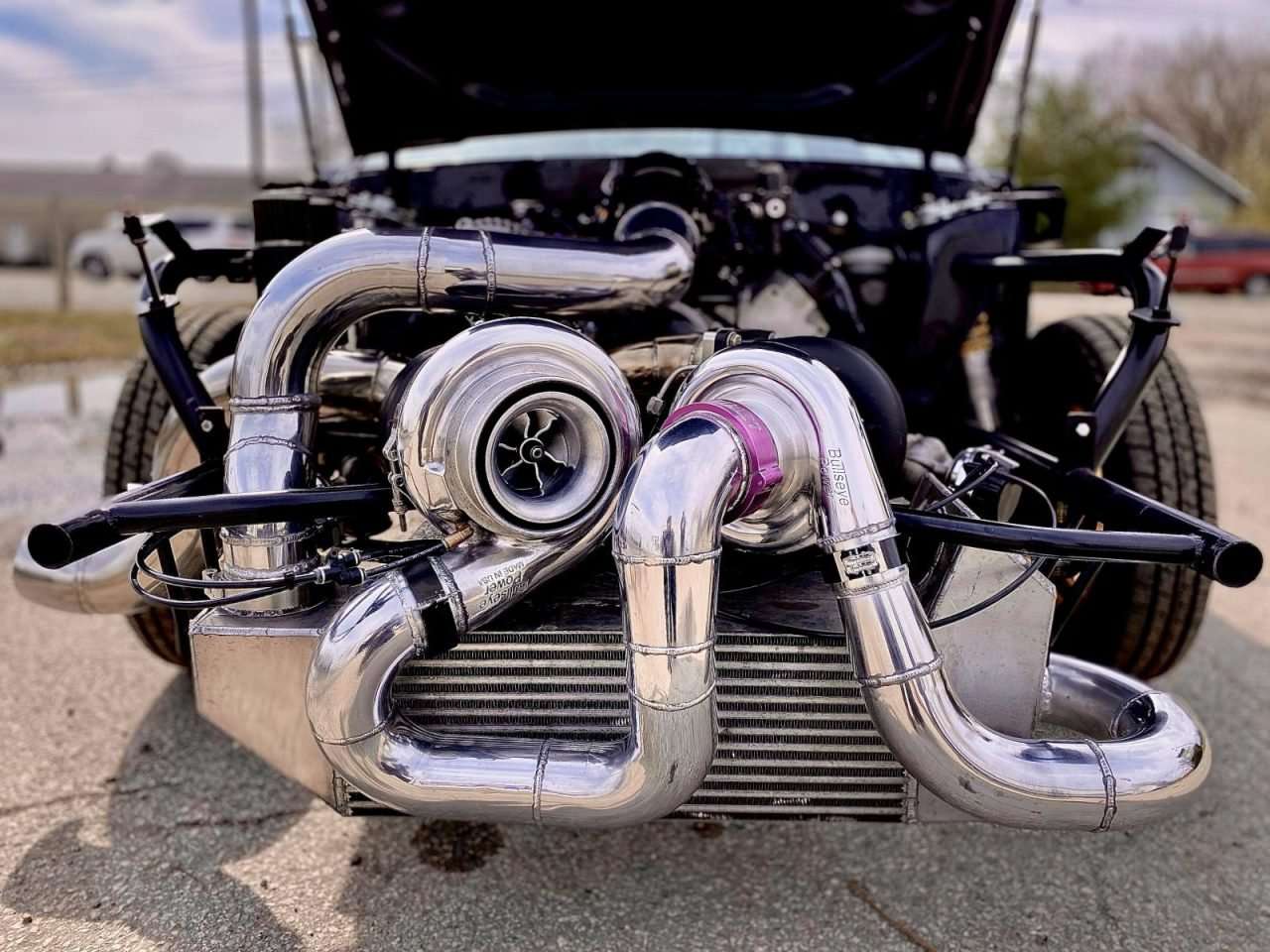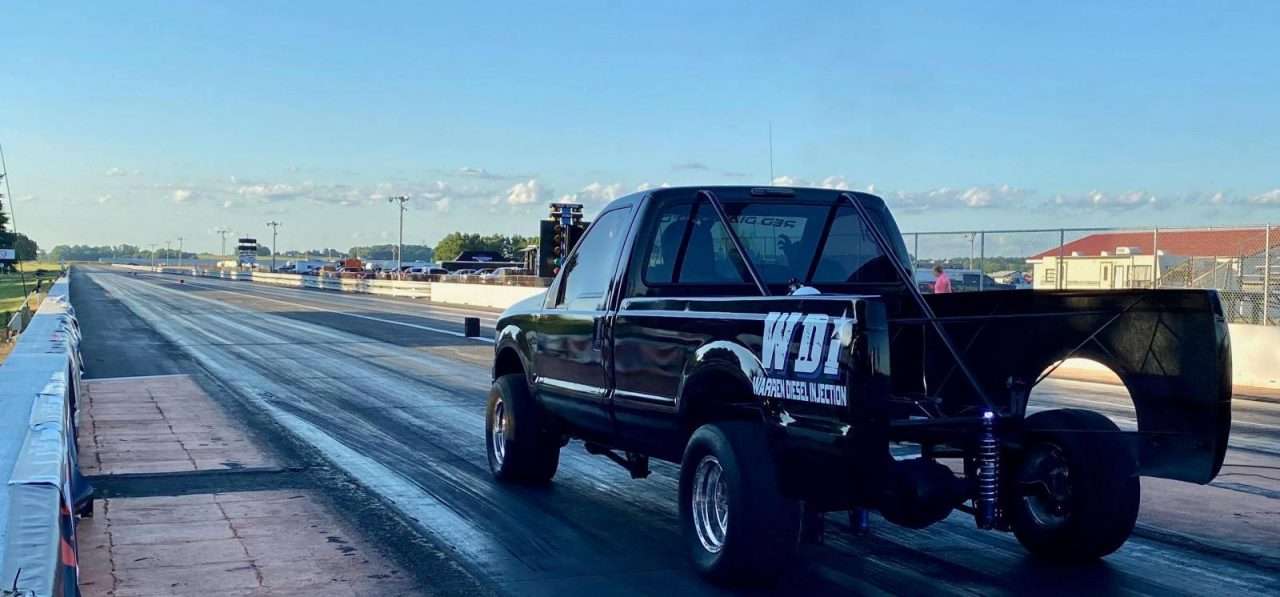 NLX Series Turbochargers
LIGHTEST TRUE BALL BEARING TURBO
HOME OF THE NLX SERIES
TURBOCHARGER
USA Made
Billet Aluminum Center
True Dual Ball Bearing
7D6FE6DA-BCE9-4B4F-B33E-DF7C94F5DF65
Our largest and most advanced turbocharger yet...
90105218_230775701406911_4952866263232675840_n
Drop-In Billet Compressor Wheels
Street Billet Turbochargers
Budget minded with Bullseye quality!
Billet Wheel Series
Turbochargers
USA Made
Gen 3 Race Cover
Original Billet Wheel
TCT Series Turbochargers
Lightest Journal Bearing Turbo in its class!
USA Made
Billet Aluminum Center
Billet Aluminum Backplate
Use
BULLSEYE POWER IS YOUR DIESEL TURBOCHARGER SOURCE. GIVE US A CALL AND TALK WITH OUR DIESEL EXPERT TODAY!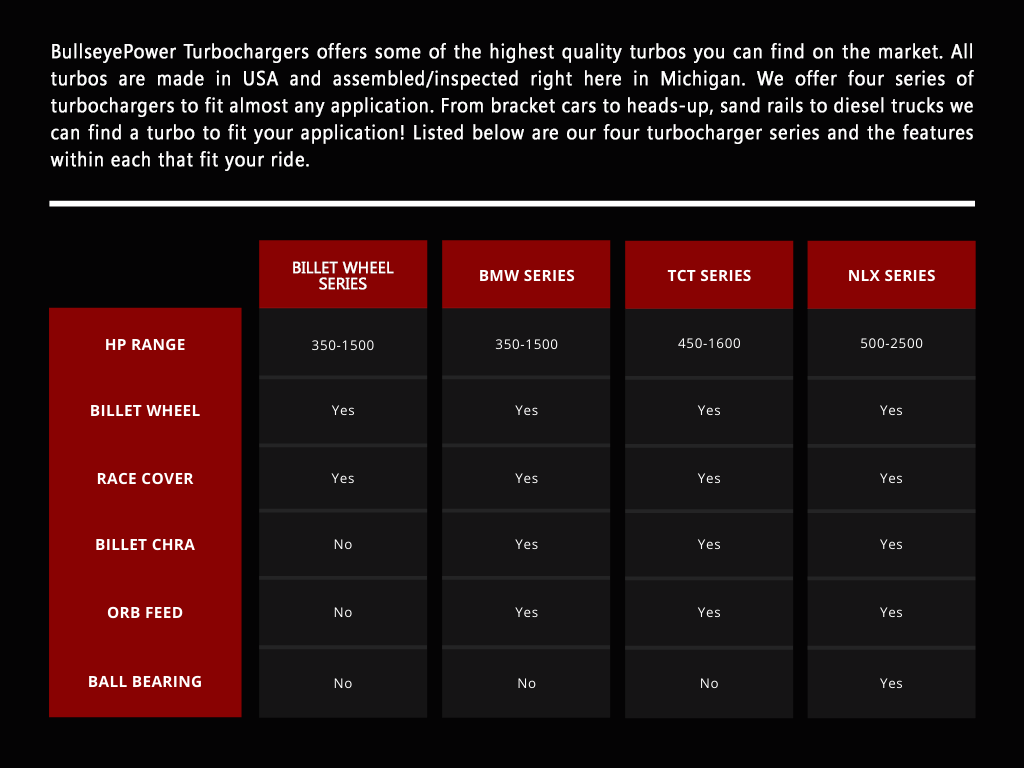 BullseyePower Turbochargers is rebranding their popular "Street Billet" series turbochargers into the new "Billet Wheel Series". This rebranding should allow better placement in our product line as a premium turbocharger
Read More »
We want to thank Bullseye Power and Bill Devine for raising customer service to a higher level. Offering any combination of turbos needed and having them readily available and shipping the same day! They are always looking for a way to accommodate your needs, even if it means going out of their way, even making sure the rest of your combo is good. These turbos just downright work, and we have never been happier since working with Bill and the Bullseye crew, and look forward to future builds using these badass American made turbos!
Bill/Pam, I just wanted to thank you both for all your help on gettIng me setup with all the proper equipment to build my no prep car. There aren't a lot of companies anymore that take customer service seriously and are willing to put time in helping people out. I had messed up on getting oil lines crossed up at relocation point and check valve prevented flow to turbo and had touched down in housing. You guys took it back and repaired it for me and now this will be my first season out in the car and I'm excited it is very fast no doubt. Thanks again!
Bill just want to thank you for all you help on this build! We just received such great news. Hot Rod is sending Robert Mcgrath to the shop at the end of April for a photo shoot for a upcoming cover of the magazine! We also were invited to showcase the car at the Tri-Five nationals in the Holley booth.We will be sure to let people know how impressed we are of the TCT's. We had the 427 on the dyno (without the boost controller hooked up) running on pump gas with 7 or 8 lbs. springs @ 6000 RPM we made1080 H.P. ! I was way happy with that as the torque numbers were not far behind. Thanks again guy and looking forward to more business soon.
A HUGE Thank You to Bullseye Power Turbochargers. I have been running the same combination for the past several years. I told "Wild" Bill Divine my combination and he selected the proper turbos. We purchased a set of 80mm TCT BatMoWheel turbos. Within four passes I broke my personal record for both ET and MPH. Now I have a lot more confidence in the capabilities of the car. Hopefully this will put us in the top of the field at all the races we attend in 2018.
Bullseye Power and Bill Devine have not only been instrumental in helping me to achieve my racing goals, but have continually gone above and beyond for me. The product itself is fantastic, but their excellent service far exceeds anything else I have ever come across in my 20 years of racing. I would highly recommend Bullseye!
Big thanks to all of you @ Bullseye Power Turbo Chargers. We have many happy customers running our Diesel compound turbo systems with your chargers with well over 1100 Hp @ the tires "on fuel only" on daily driven street trucks.
Top of the line professionals!! They are Miles ahead in technology and their costumer support is outstanding. Bill Devine help us greatly, even at 8k miles away!
Bill and the guys at bullseye were a huge help when trying to make huge power with the 8.2 deck motors. Bill's knowledge when it comes to turbos and going fast is nothing short of amazing
Not only a good product at a great value but it's staffed with some of the best people in the industry. I've done business with Bill for close to 20 years and he's always treated me like family.
Great representative for Turbosmart. Bill is a genuine guy and produces a great product
Always top notch service and turn around time. Both personal race cars sport BEP Units as well as many of our customer cars. Always a pleasure to deal with the BEP team.
Best in the biz. Always happy to spend my money with this company.